We can all agree that Thai food is so popular because of its unique flavor. The magical combination of sour, sweet, and spicy creates amazing dishes that everyone – Thai or not, can really enjoy. The essence of their delectable food is all about balance and attaining the perfect harmony with fresh herbs and spices. It's also perfect for any type of diet, as many traditional Thai dishes mainly consist of vegetables. Now that your mouth is watering, let's talk about some of the best Thai restaurants in Bangkok you absolutely have to try! Even though some of these restaurants may be pricier than what you might expect to pay in Thailand, you can trust that the dining experience will be sensational and worth every penny.
1) Issaya Siamese Club
Located near Rama IV Road, this restaurant has been serving the best traditional Thai food since 2011. Issaya Siamese Club is the perfect restaurant for those people looking for a luxurious and romantic food experience in Bangkok.
The restaurant is standing upon a 100-year old house in the middle of a green garden. They also have a wooden verandah and old-fashioned staircase, which gives the place its romantic vibes.
The price menu starts from 1,500 baht or 45USD and you'll find items such as tender double-boiled glazed ribs, jasmine flower panna cotta, and their famous steamed lobster with curry custard and fresh coconut. The recommended starter here is the Yam Hua Plee Sot Gab Yot Ma Prow, or a salad of banana blossom flower and coconut shoots priced at 260 baht or 8USD.
And don't forget to order some cocktails like their Ginger Basil Kicker! Other must-trys include Khao Yam Bangkok, a bowl of southern-style fried rice with a lot of toppings like cucumbers, shallots, pomelo and toasted garlic chips.
2) Pe Aor Restaurant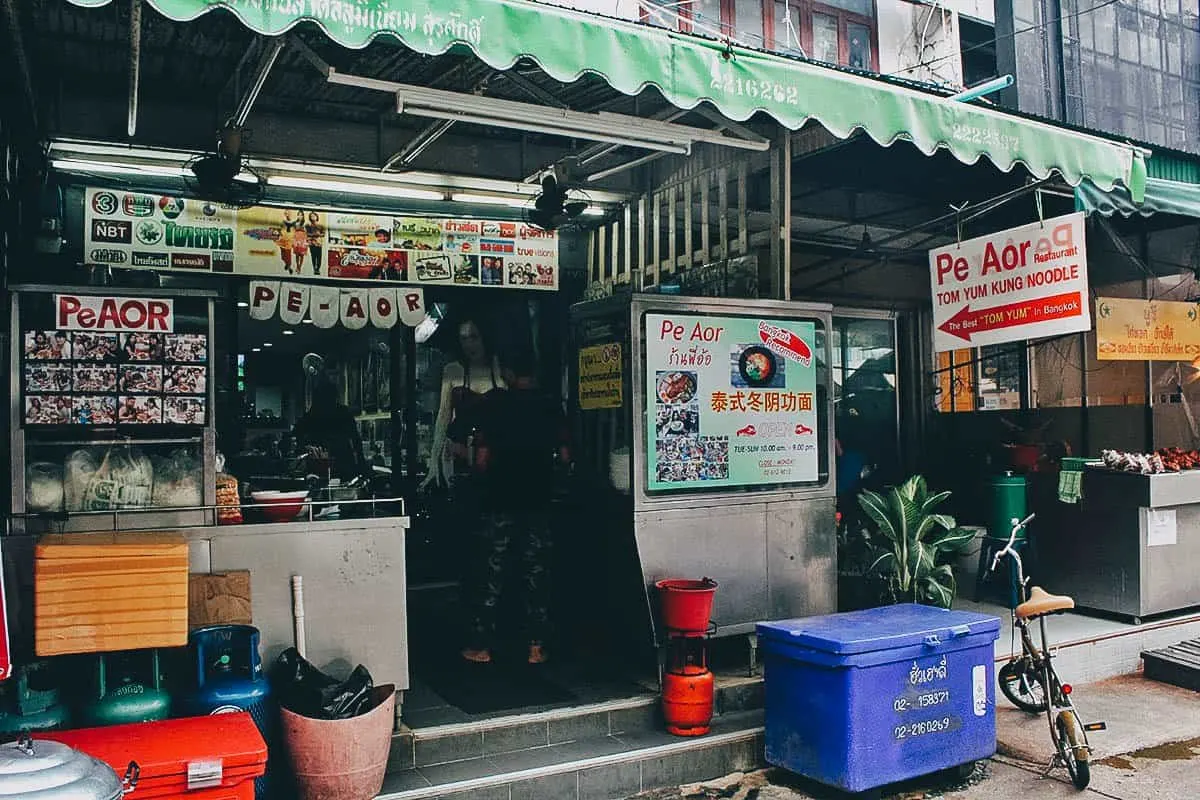 This stall is recognized as the best tom yum goong noodles in Bangkok! Not only that, but they also offer tom yum with giant lobster for only 1200 baht or 37USD. For its price, you'll also get squid, fish, mussels, and prawns – all soaked in a rich and creamy tom yum soup. No wonder why both locals and foreigners enjoy Pe Aor!
Another must-try dish is their Yum Woon Sen Telay, which is a spicy noodle salad paired with mixed seafood. This is like a classic Thai salad but heavier on taste since it's spicier, salty, and very sour.
Located at Soi Petchaburi 5 near Phaya Thai BTS Station, Pe Aor is a humble restaurant when it comes to ambiance and decor. The focus here is truly on the food so make sure you come ready to feast!
3) Thip Samai
If you are craving pad thai, this restaurant will offer you the very best and most authentic. Thip Samai is located in Maha Choi Road and they've been operating since 1965, which is around the time pad thai was created as a dish!
This local restaurant offers a simple menu that only consists of different kinds of pad thai. There's original pad thai, superb pad thai, and their bestseller, Pad Thai Sen Jan Man Goong. The latter is a noodle fried with head juices of prawns. It has a hint of smokiness that compliments the seafood-y flavour! Complete your meal with a freshly bottled orange juice, with is delivered everyday from the countryside.
4) Nahm Restaurant
This restaurant is under the delightful Chef Pim Techamuanvivit. Nahm Restaurant is recognized as one of the top restaurants in Asia and has been gaining Michelin stars for four consecutive years from 2016 – 2021. Every dish in this restaurant displays the creativity and attention to detail of Chef Pim.
Their main dishes and sides indeed reflect an authentic Thai menu. If you want the full experience, you can order the Heritage Set Menu at 2,500 baht or 76 USD. It consists of savory canapés, desserts, and Yam Pak Yang Tawai or leaves and fruit salad paired with Tawai dressing. The menu also includes their famous Nuea Par Piroth or stir-fried wagyu beef, Gapi Pla, Tom Yum Gung, and many more.
5) Soei Restaurant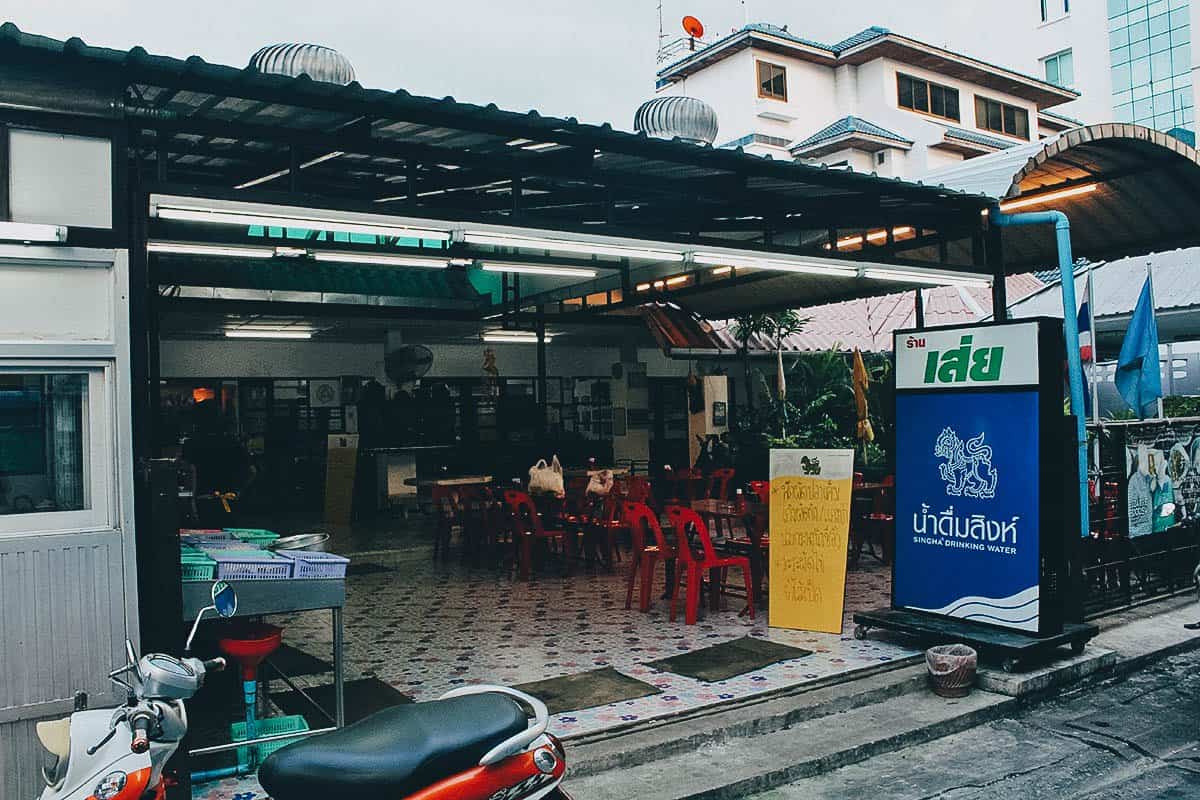 Soei Restaurant will delight you with their rare Thai dishes. ThinkThai shrimp ceviche, mackerel curry, and fried mackerel cheeks! The latter is a crispy fish cheek seasoned with salt and fried garlic. It comes with complimentary chili sauce and you can eat them like a bag of chips! Because Soei's fried mackerel cheeks are salty, they are best with an ice-cold beer. Keep in mind that this product is usually sold out before lunch so make sure to come early! All you need is just 100 baht or 3USD.
When it comes to ambiance, Soie restaurant has aluminum tables and red plastic chairs, just like any other ordinary Thai restaurant in Bangkok. But you can really see the testament to their great food from their wall full of recognitions and certificates!
6) Sorn Restaurant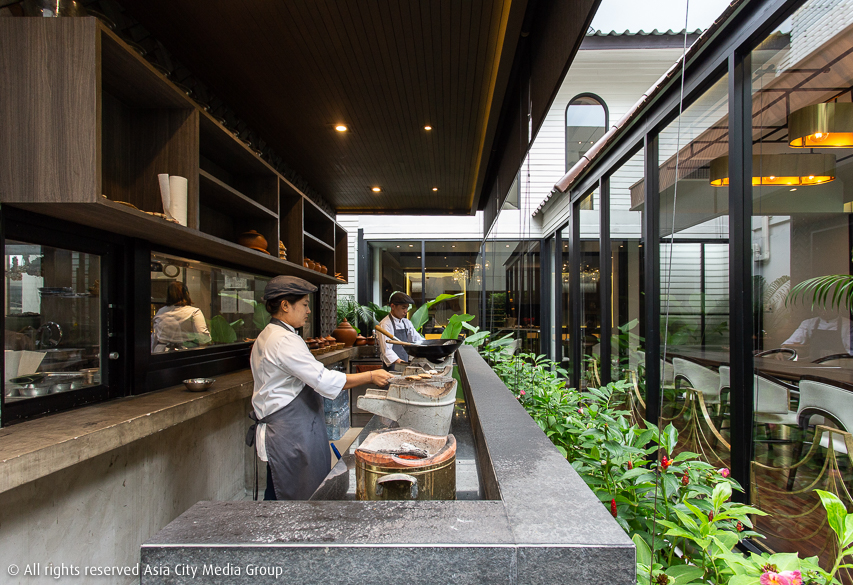 Listed as a Top 50 Restaurant in Asia, Sorn Restaurant specializes in techniques and ingredients from the indigenous part of Southern Thailand. Their objective is to rediscover appetizing dishes while honoring the bounty and rich history of the land. The chefs and owners of Sorn Restaurant – Khun Ice and Yodkwan U-Pumpruk both hail from the region.
Sorn Restaurant is located in a hidden alley in Bangkok near The Four Wings Hotel. It has an understated space that entails long tables, a see-through kitchen, and a green space. When it comes to cooking, they acquire ingredients from 14 provinces of the region and prepare everything through a clay pot. Sorn's two-degree lobster and gems on crab sticks are both delicious Thai food that are beautifully plated with extreme attention to detail.