Nudity is something generally frowned upon in many parts in the world. In fact, hitting the beach in your birthday suit will most likely see you slapped with some form of public indecency charge. But going au naturel can be awfully freeing – provided you're somewhere where it's legal! In a conservative space like Asia, one might be surprised to find nude beaches. But these nude beaches in Philippines will change what you think and they're perfect for casting aside your clothes! Whether you wanna go skinny dipping or laze in the sun without getting any tan lines, here are the best nude beaches in the Philippines.
1) Amanpulo, Palawan
Amanpulo is totally worth the splurge. It is less crowded compared to Boracay, which unfortunately is now awfully commercialized. Amanpulo on the other hand remains pristime and known wildlife, turquoise-colored waters and world-class diving.
And because of the understated luxury Amanpulo provides, visitors can enjoy with plenty of space and privacy. It's no wonder why many celebrities in the Philippines adore this place and come here for a sense of peace and belonging in this natural landscape.
The gorgeous beachfront villas may cost more than usual, but for the luxury, privacy and freedom to ditch all your clothes, Amanpulo is unrivalled in what it offers.
 2) Jagnaya Beach, Salcedo, Eastern Samar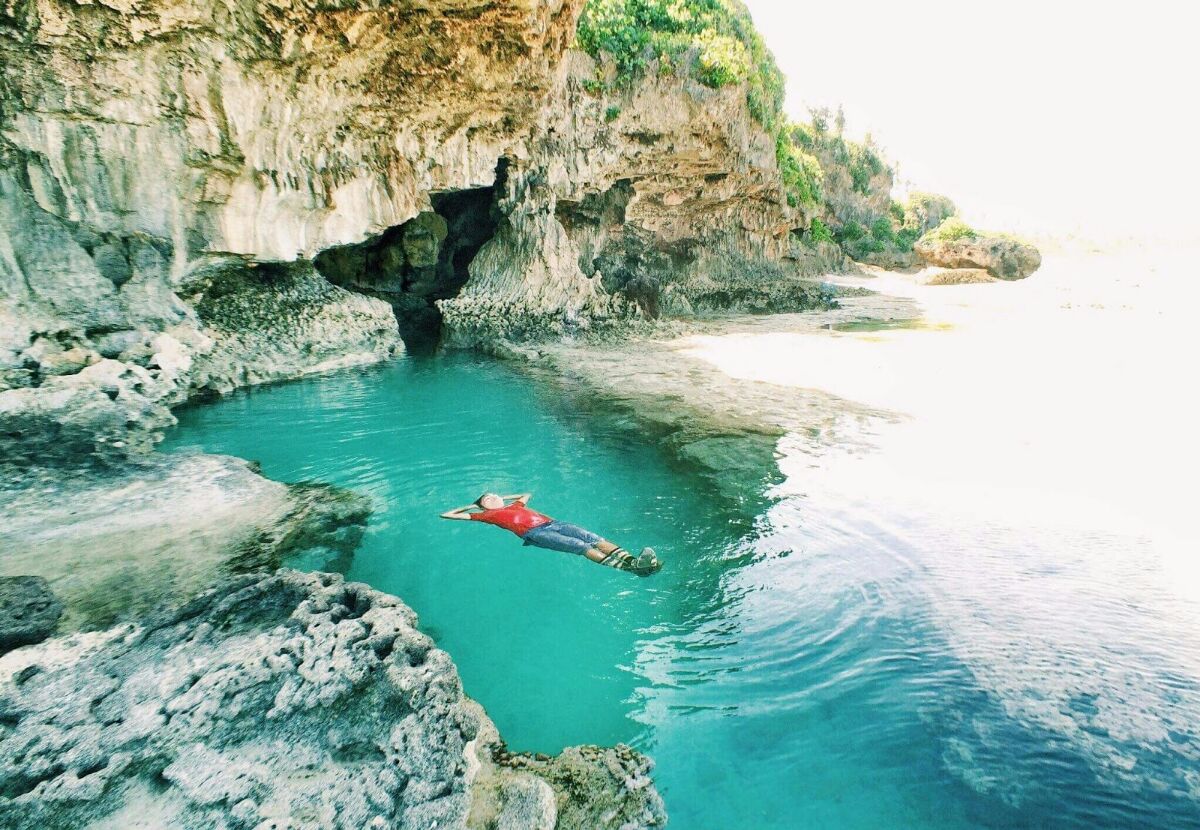 A cave opening fronting the Pacific Ocean is unquestionably a place that deserves to be experienced by everyone. Jagnaya Beach (pronounced as 'hagnaya') is the perfect intimate location to leave your clothes and go skinny dipping. The water from the Pacific Ocean creates a nice cave pool where you can be as naked as you want to be.
The Philippines has lots of popular beach destinations which are increasing in popularity every year. This adds to the reasons why many people prefer to seek out quieter spots where they can be a free spirit. If that sounds like you, Jagnaya Beach is definitely one of the best hidden gems in the country.
For just 10 pesos or $0.20 cents, you can enjoy this long span of white sand and blue waves. The cottages are also free, so do bring along some food and water for your day out here. The beach also has dazzling rock formations and other caves you can explore!
3) Sumilon Island, Oslob, Cebu
This island is renowned for its clear waters perfect for snorkelling and diving. Sumilon Island is a small sandbar island located on Cebu's pristine coast. It has small patches of reef along the little area of white sand where you can see many fishes.
The best time to visit Sumilon is in Cebu's dry season – December to June. But if you are too shy to go skinny dipping, you can also visit it in the wet season which is June to December. You can go skinny dipping and snorkel all year round, but the dry season brings the best visibility and weather conditions.
If you love snorkelling and want to experience the best of the best, then make sure to check out the Marine Sanctuary on the island. This is a protected marine area that's a little away from the main sandbar swimming area.
4) Sibang Cove, Calayan, Cagayan Valley
Calayan Island is a remote location perfect for every kind of water activity. This island is full of beach coves, cliffs, and hidden waterfalls to experience. And thanks to the difficulty of getting here, Calayan island remains an off-beaten destination in the country – another reason why it's a great place to go nude!
If you are from Manila City, the travel time to get here takes about 20 hours. Forget the usual comforts of journeying through private vehicles and get ready to take a long land and sea journey.
The best time to visit Calayan Island is in the summertime (April to first week of June). The sea conditions are generally manageable at this time, and you are quite likely to see dolphins and humpback whales during your boat ride!
Another place to see on this island aside from Sibang Cove is Nagudungan Hill – a wide pastoral cliff that offers breathtaking ocean views. There are also various waterfalls to explore like Bataraw and Caanawan that require some trekking through dense forest woods. For a truly adventurous spirit, Sibang Cove is a dream come true.
5) Bitaog Beach, Palumbanes Island, Catanduanes
Catanduanes is the 12th largest island in the Philippines, yet it is also one of the most unpopular destinations. Bitaog Beach itself is a hidden paradise that requires some effort to reach. For one, you'll have to do one and a half hour of trekking through the forest and crossing rivers to get to the other side of the island.
But once you get to your destination, the beautiful stretch that is Bitaog Beach will greet you. There is also a lighthouse on the top of its hill, where you can appreciate the view of Palumbanes Island.
The water of here is calm and dark emerald in colour, perfect for your skinny dipping session and Instagram feed. Though we should probably advise you to keep your bits out of the camera!