Ah, Vegas, a land of indulgence. With big bright flashing lights and all things to make a human happy in excess. An adult theme park, if you will? You've no doubt heard of this destination to 'get lucky'. And Las Vegas being the place that it is, offers the same confidence in areas other than the slots or roulette tables. This is a place to feel like royalty. So why not take that to the max and check into these castle hotels in Las Vegas?
1. Excalibur Hotel and Casino
Located in the heart of The Las Vegas Strip, the Excalibur is a mediaeval styled theme hotel. With almost 4,000 room, it is the seventh-largest hotel in Vegas and the eleventh-largest in the world. The exterior and interior design leave little to the imagination. It won't take much effort to transport you to a fantasy of the Arthurian legends!
Customise your stay with a room in one of the towers, or go grande with their assortment of luxury suites. They even have a new line of Fresh by StayWell branded rooms equipped with the latest wellness technologies to help you relax and rejuvenate! Did we also mention that they're dog-friendly too? Excalibur is a family-friendly venue with something for all ages, from adult shows to arcades. But be sure not to miss the Tournament of Kings dinner and show experience to really complete your castle stay!
2. The Venetian Resort
Modelled after the city of Venice, this ethereal architectural achievement features replicas of several Venetian landmarks. Spot the Piazza San Marco, Palazzo Ducale, the Rialto Bridge and more! The Venetian also is home to the famous Grand Canal Shoppes shopping mall. It also has a museum, convention centre, as well as a sinfully luxurious Asian-inspired nightclub on its rooftop.
Even if you're not staying at The Venetian, you should go just to marvel at its architecture and lavish interiors. You can even supplement your visit with a real gondola ride, driven by actual gondolieri!
3. Caesar's Palace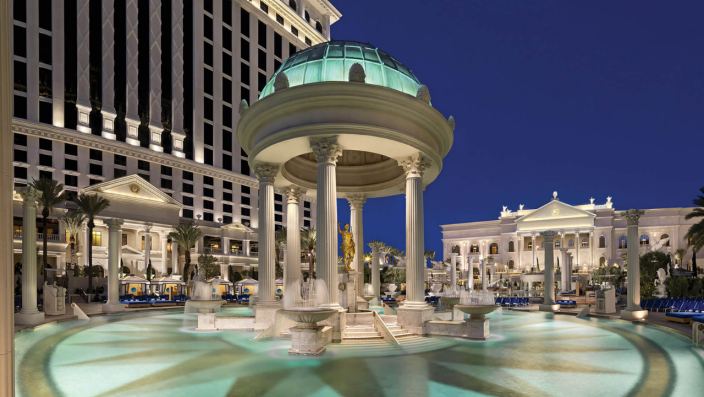 Back in the 1960s, motel owners Stanley Mallin and Jay Sarno had the resplendent idea of building a hotel. But not just any hotel. This is made to make one feel like a Roman emperor and it's decked out with every bit of Roman decadence. The results were stunning. The exterior is a sight to behold. Think marble, statues, columns, and lots of water for their famous 18 fountains!
There are a vast variety of room offerings at Caesar's Palace. Starting with the quintessential Caesar rooms all the way to the most sumptuous villas and penthouses. The most exclusive of them all is the Titus villa. At 11,200 square feet, it boasts golden fixtures, barrel-vaulted ceilings, its own private pool and even a piano room! In between are the premium Laurel Collection rooms with their own private entrance. And also grand suites with multiple floors, separate dining and living rooms, private elevators, lush balconies, and even limo and butler services.
The iconic Caesar's Palace is extremely extravagant and definitely one of the best, if not the best castle hotels in Las Vegas. With spectacular rooms, service, and entertainment, the world-renowned luxury will definitely leave an unforgettable memory.