The Amalfi Coast in Italy has been a popular tourist destination for many years. It has a diverse range of attractions that include beaches, mountains, and towns that have amazing architecture. It is also known for its dramatic scenery, with steep cliffs and narrow winding roads. You will definitely experience an unforgettable adventure if you try any of these 9 Activities in Italy's Amalfi Coast!
1) Visit Positano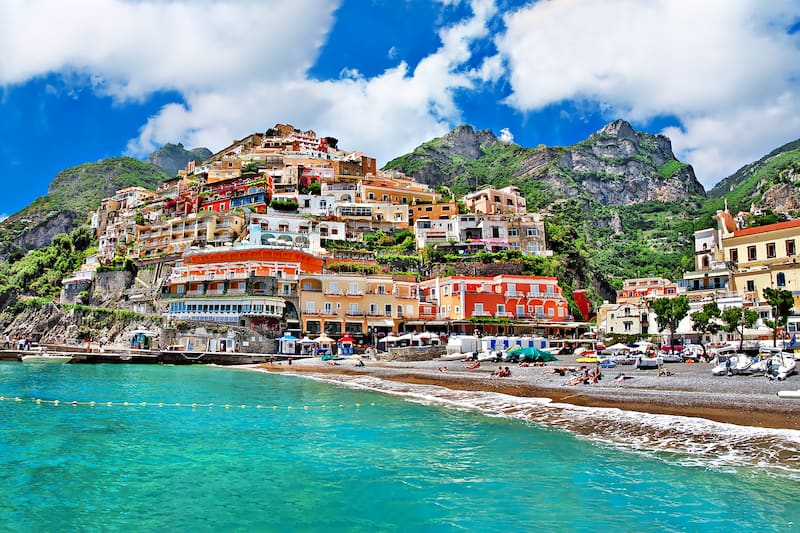 The coastal road leading to Positano is one of the most famous scenic drives in Europe, with its many hairpin bends and stunning views! This town has the 13th-century church of Santa Maria Assunta and the Byzantine icon of a black Madonna which were revered even by pirates. Positano is also known for its nightlife and food, so prepare to go bar/restaurant hopping! With the salt in the air, blue sky and clear waters, you'll feel like you're in a romantic movie, looking for or experiencing love and an ecstasy that will last you your lifetime.
2) Boat Tour in Grotta Dello Smeraldo
Enchanting is an understatement when you are rowing underneath the stalactites of the Grotta Dello Smeraldo, or Emerald Grotto. The emerald green glow of the water, from which the cave was named after, is caused by the sunlight shining its way through the cave! Due of the tectonic activity in the region thousands of years ago, this cave has became elevated, allowing tourists the opportunity to paddle through the beauty of Grotta dello Smeraldo. This is one of the exciting adventures in Italy's Amalfi Coast for those that are captivated by and interested in Geology, Geography, or nature in general!
3) Stay at the Marina Grande Beach
This main beach of Positano is definitely one for those that love the sun. And it is undeniable that this is one of the activities in Italy's Amalfi Coast to Try! The 300-meter-long shoreline is usually filled with beach umbrellas and people who are getting the most out of their tanned skins in the summer. There are also cafes and restaurants nearby so you can enjoy a cocktail with the views of the picturesque pastel buildings and houses of the local people in Positano.
4) Visit Ravello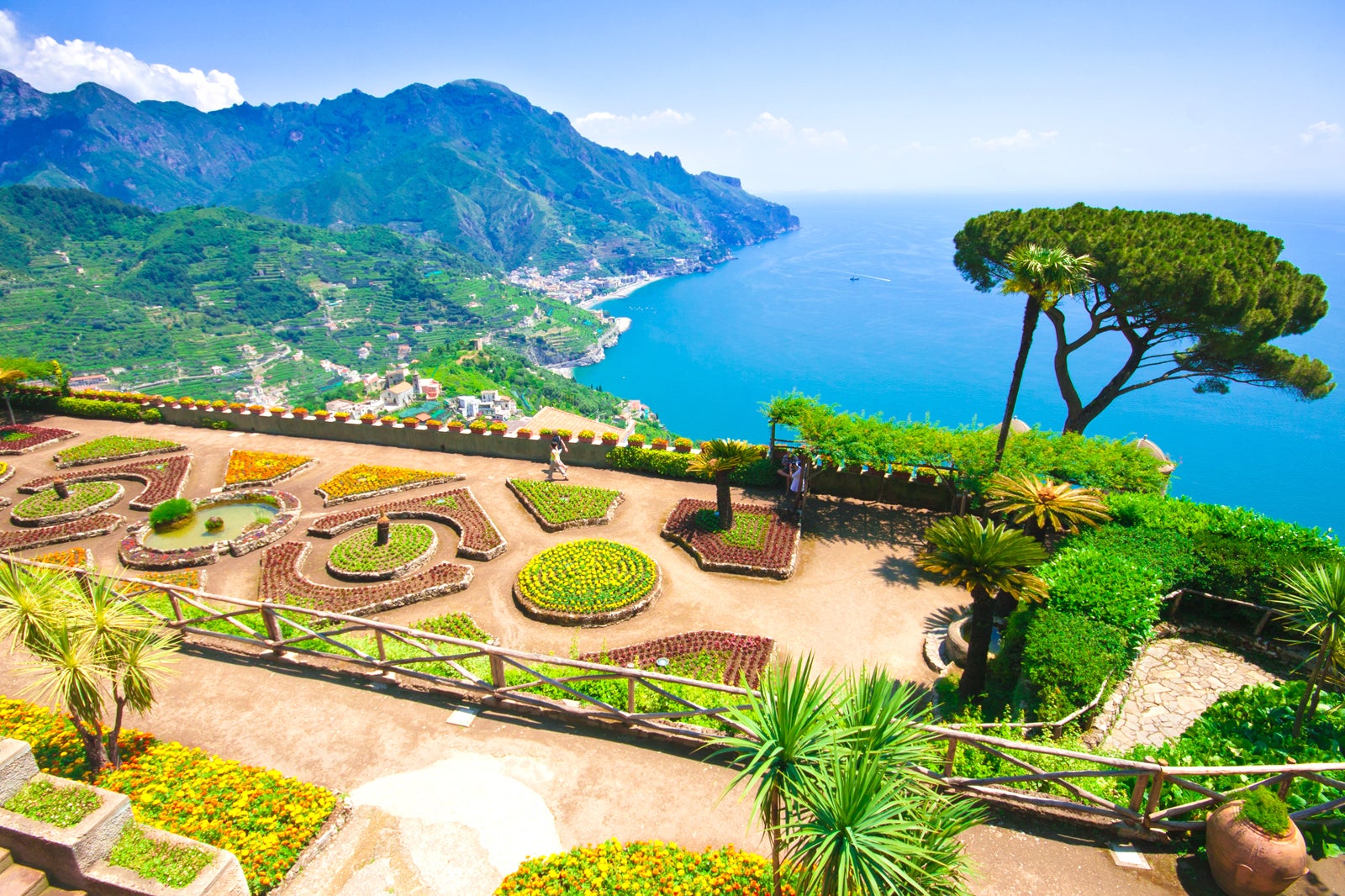 Ravello is a resort town known for its lush cliffside gardens! Located in an old town with a view of the sea, also has magnificent architecture and its quaint alleyways. Wherever you are, the view is stunning! You can also encounter a number of old churches that were remodeled to follow the Baroque style with Persian majolica – with frescoes of some scenes from the life of Jesus. You can also walk down the beach through a path with a lemon-scented wind because of due to its local lemon trees, known as Limencellos!
5) Stopover at Villa Cimbrone gardens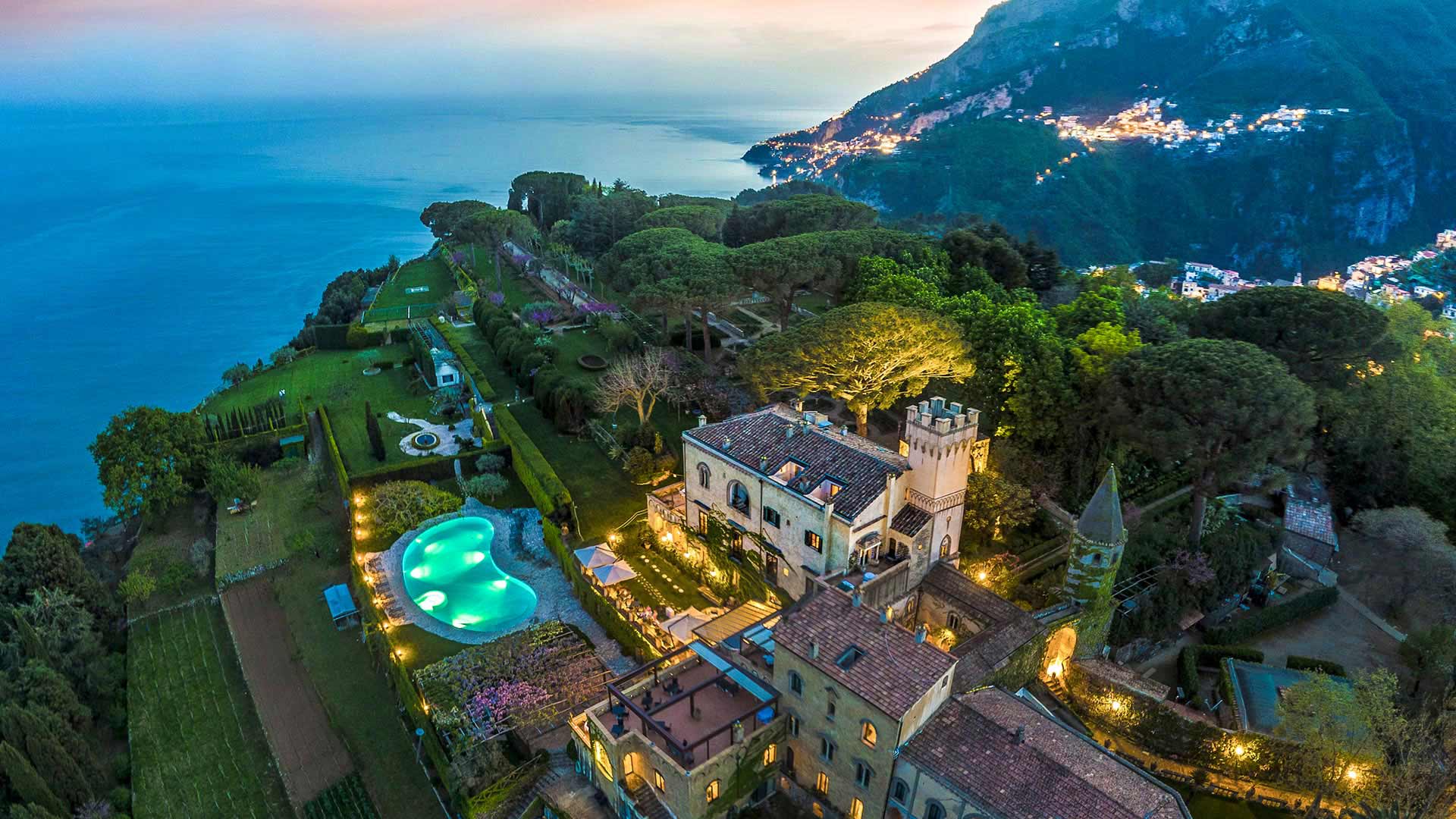 Nature will always be a part of who we are. This is why the Amalfi Coast is the perfect place for us to reconnect with nature as we visit the countryside. Villa Cimbrone Gardens is a testament to this. The flower gardens, parks, wells, and incomparable views of the coast here are beyond any escape that you can imagine! There are also statues, fountains, temples, and other architectural wonders you can find here – all incorporated into gardens in the midst of greenery.
6) Trekking to the Vallone delle Ferriere
If you wish to take a break from beaches, another unique natural phenomenon to visit at the Amalfi coast is the Vallone delle Ferriere. The trail consisting of chestnut trees and rare ferns will allow you to breathe the fresh air you cannot get from any city. The central part of the trail is a protected nature reserve has a extraordinary humid microclimate, due to the position of the Vallone delle Ferriere in the neighboring mountainous region. As you go back into town, you will also encounter water mills that once powered the Amalfi's paper-making industry. In Vallone delle Ferriere, you can enjoy a walk that is worthy of every step!
7) Take a Dip on Maiori Beaches
The Maiori beaches boasts one of the few sandy beaches at the Amalfi Coast! Because of the rejuvenating and splendid stay the beaches offer, many tourists and locals alike are fond of the beautiful cove. Once you're done with the beach, treat yourself to entire stretches of cafes, restaurants, and shoppes! The city of Maiori, famous for its Lemons too, is also close to the others towns of Amalfi, Ravello and Minori!
8) Centro Storico of Salerno
Salerno is recognized as the largest town in Amalfi and can be easily located as the eastern-most area of the region. If you want experience a perfect mix of modern and old street architecture, Salerno is undoubtedly the place for you! With an active nightlife scene, you can also enjoy a good night out here by visiting clubs and bars. While in the  daylight, the beaches, harbors, and ports are waiting for you. This side of the region also has transport links to Rome or Naples – both exciting and otherworldly places to visit when you are in Italy!
9) Expeditions on the Island of Capri
One of the most magical places and popular destinations on Amalfi Coast is the Island of Capri. You can reach here through regular ferries – which may not sound much, but with views of the mountains and clear blue waters, it is a trip equal to its destination. Capri flaunts captivating landscapes and superb mountain views with an array of beautiful beaches. There are also bustling bars and dancing lights at the local clubs, culminating your day with an explosive end!
These activities on Italy's Amalfi Coast will be an adventure for many and definitely a must-try. Every interest you have are offered in this place – especially for your inner love for nature and booze! Don't forget to bring sunblock too because things are about to get tanned!