Jeju Island has been the subject of many Korean dramas and movies, but it is also an ideal place for travelers to enjoy their time away from the hustle and bustle of life, relax, and slow down with life. It has many natural and exciting attractions worth checking out; including its beautiful beaches, volcanic landscapes, hot springs, and cozy small villages. It is wholly undeniable that this island is a paradise for those who love the outdoors! From stone parks to cliffs, let's explore the 9 Top Attractions in Jeju Island you have to visit.
1) Jeju Stone Park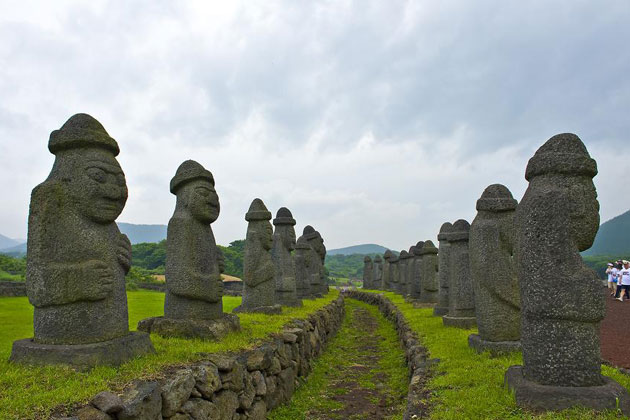 The Jeju Stone Park is known for its many stone formations, caves and Dol Hareubang stone statues. Although this park isn't your typical holiday destination with five-star restaurants, souvenir gift shops, or quirky theme parks, the distinctive culture and history  this park possesses is life-changing. In fact, visiting the park is not boring at all! Many people all across the world come here to find Jeju's natural wonders. After hearing the stories behind these rocks, they might even come alive before your very eyes.
2) Jeongbang Waterfall
Jeongbang Waterfall is located in the south of Jeju Island and is considered to be one of its top attractions. It's a great place for hikers and nature lovers to visit, but it can also be enjoyed by those who just want to take pictures and enjoy the scenery. So prepare yourself as the sound of Jeongbang Waterfall crashing into the ocean below strike your ears, bringing your mind into a soothing, relaxing mood. As the water crash into ocean, the air bubbles trap air to create a foamy white water that will be a sight to behold.
3) Hallim Park
Hallim Park offers visitors an opportunity to enjoy a variety of outdoor activities such as nature appreciation, camping, fishing, and so much more. There are also plenty of places for playing and relaxing such as swings, benches, stone tables with umbrellas, and a miniature train ride for the kids! Hallim Park is located in the Northwest of the island and offers diverse biodiversity of the fauna & flora on show. You can also expect stones and bonsai gardens – with flowers and trees you won't find anywhere else. Bask in the sight and sounds of a perfectly natural park for everyone.
4) Hyeopjae Beach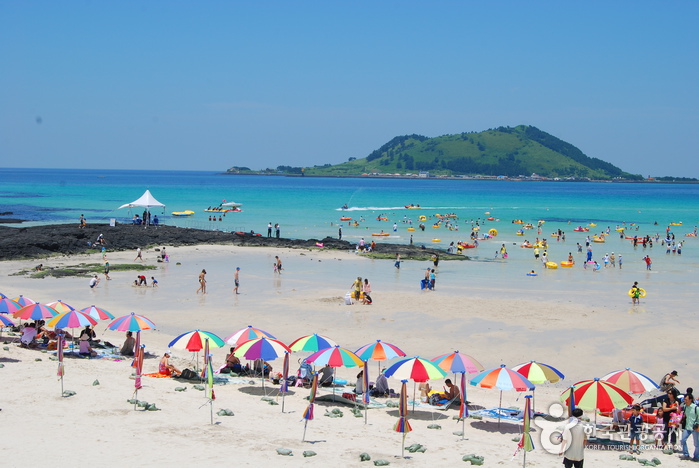 The Hyeopjae beach is another top attraction in Jeju Island that you have to visit. Because of its clear water and striking beauty, it has been described as one of the most beautiful beaches in South Korea. The beach offers a picturesque view of the coastal mountains, serene waves, and so fluffy white clouds! The clear and inviting waters will surely lure you to stay in the ocean all-day long. There are also restaurants and cafes lying along the stretch of beach. I mean, what's a good vacation more than a paint-like beach view and good Korean food?
5) Spirited Garden
The Spirited Garden in Jeju Island is probably one of the most beautiful places to visit in South Korea. It's a place straight out of a story book, where you can find peace and serenity while being surrounded by nature. There are also centuries-old bonsai trees, stone bridges, and gurgling waterfalls designed to set your soul at the ease. The Spirited Garden represents both the beauty and nature of Jeju Island – once you visited it, you will never forget the sights and sounds for the rest of your life.
6) Manjanggul Cave
A popular attraction on Jeju Island – the Manjanggul Cave, was formed by erosion by the wind and ocean waves. The cave has been known for its biodiversity and its huge underground lake. The secluded chambers, underground streams, little waterfalls, and the ceiling of the cave will surely leave you in wonder. The cave, stretching up to 9 kilometers in length and 23 meters in width, also has a lava column at the end of the attraction with bats flitting around. But whatever you witness here, Manjanggul Cave will certainly give you a memorable experience!
7) Hamdeok Beach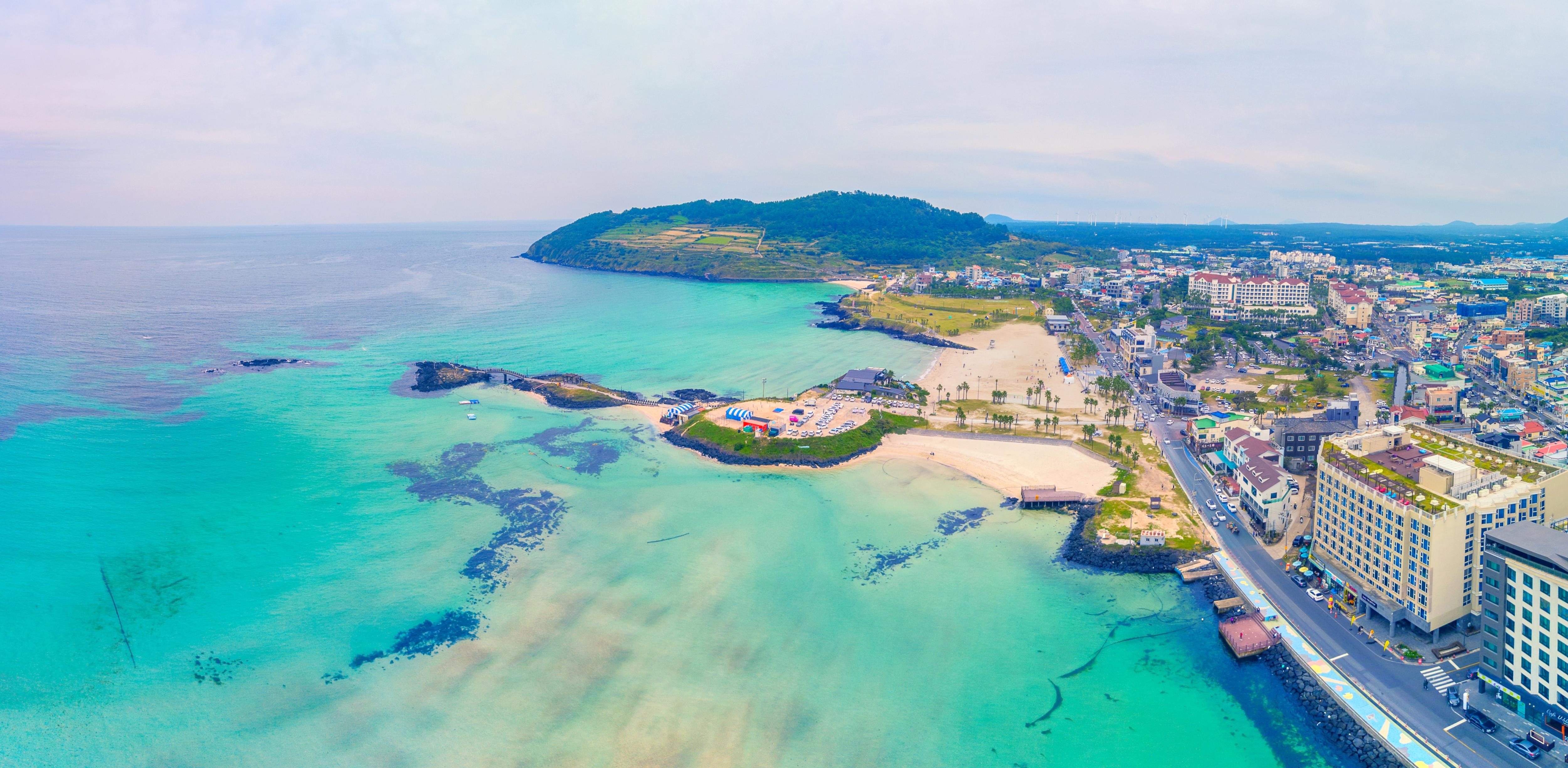 The Hamdeok Beach is located on the east coast of Jeju Island. The coastline surrounding this small sand area has rocky cliffs that make for a dramatic view. During sunset, the sky turns into an orange hue, while the waves crash against the rocks below. The Handeok beach isn't just known for its beautiful scenery, but its shallow waters with almost no waves. The golden sands of this beach is also home to lots of restaurants, cafes, and hotels that offers water activities such as snorkeling and water skiing. However, even just a simple swimming in the sea sounds delightful!
8) Udo Island
Udo Island is blessed with strong-feature beauty and rich culture, which makes it a perfect place for people to unwind and explore. The island is surrounded by cliffs and walking on top of it will transport you right into a K-drama! You can also explore all its natural sights and the charming little lighthouse that everyone visits the island must go to. You can even go for submarine tours to visit under the water and bring out the marine enthusiast in you!
9) Seongsan Ilchulbong
Seongsan Ilchulbong, also known as the Sunrise Peak, has a daybreak (as it name suggests) is unquestionably better than where you are right now! Formed from a volcanic eruption five thousand years ago, this picturesque attraction is also a UNESCO World Heritage Site and one of Jeju's island most famous geographical features. Trek the steep (but manageable) steps of Seongsan Ilchulbong, and enjoy the best sunrise view Jeju has to offer. This unique landscape is something you must not miss out on.
Jeju Island is home to some of the most beautiful beaches, natural wonders, and historical sites. It also boasts some of the best food in Korea, so it's not surprising that many people flock to Jeju for their vacations. So its time to plan your itinerary, and include the 9 Top Attractions in Jeju Island You Have to Visit.