What better way to end a long day of trekking and being dazzled by the beautiful sights and sounds of Niagara Falls than to enjoy a plate or bowl of one of the most popular cuisines in the world? Italian food is more than just about its recipe. The textures, taste, and most importantly soul that goes into making these dishes will leave you singing like an Italian Opera singer from the 1600s with joy. The quaint town of Niagara Falls, New York, is home to many authentic and amazing Italian restaurants, among its charming boutique shops and tourist attractions. If you find yourself in the area, here are 9 Italian Restaurants in Niagara Falls New York!
1. La Cucina di Mamma
It is said that Italian food is known for its bold flavours and delicate textures. La Cucina di Mama offers just that! Hidden inside a small hotel, La Cucina has been a family favourite ever since its opening. One of their most popular items is the Chicken Parmesan, which has kept customers coming back again and again. They also boast a rich, creamy lasagna, alongside their classic Veal Parmigiano and Fried Calamari. Customers have also expressed their love for the soft Italian music that brings the cosy room together.
2. Donatello's Restaurant
With amazing hospitality and a cosy interior, Donatello's will transport you to the streets of Italy. A perfect spot for a romantic dinner, Donatello's is known for their Fish Fry – a scrumptious crunch into breaded fried fish, accentuated with the sweet taste of tartar sauce. It is also known for its mouthwatering Buffalo and Hot Wings, melt-in-your-mouth Hoagies, and New-York-Style Pizzas. What's more, its menu are priced reasonably and their portions are huge!
3. Mario's Pizza
Mario's Pizza is the perfect place for tourists or locals looking for a quick bite. With speedy service, delicious food, and an affordable menu, Mario's Pizza got you covered! Its specialties include thinly crusted New-York-Styled Pizzas, which also come with a gluten-free option. After a long day of visiting one of the most beautiful geological formations in the world, complete your New York experience with a slice of piping hot, pepperoni-covered, and cheese-ladened pie!
4. Olive Garden Italian Restaurant
When it comes to Italian food, you can't leave Olive Garden out of the conversation. Other than offering amazing Italian staples like Lasagna, Bolognese Spaghetti, and Alfredo, this restaurant also serves astronomically delicious breadsticks. With exceptional service and wonderful food at an affordable price, you won't be disappointed whenever you step into an Olive Garden restaurant.
6. Fortuna's Restaurants and Banquets
It will be hard to find any place that might beat the food served by Fortuna's. From Rigatoni, Meatballs, and Shrimp Scampi, Fortuna's is highly recommended by visiting tourists and locals – and it's easy to see why. The food is served in large portions and prepared with the freshest ingredients around! Enjoy their signature tender Veal Cutlet with Gnocchi and rich Eggplant Parmigiana in a modernly designed interior – a welcoming respite to the heat of New York!
7. La Hacienda Ristorante and Pizzeria
Established in 1949, La Hacienda is a family-run Italian restaurant and is a local fixture for amazing Pizza. Besides serving generations of Italian food enthusiasts, La Hacienda also has a full bar for celebrating any occasion you could think of. With a wide range of specialities like Linguine with Clams, Goat Cheese and Prosciutto Pizza, La Hacienda offers the extraordinary comfort most restaurants could only dream of providing their customers.
8. Bella Vista Ristorante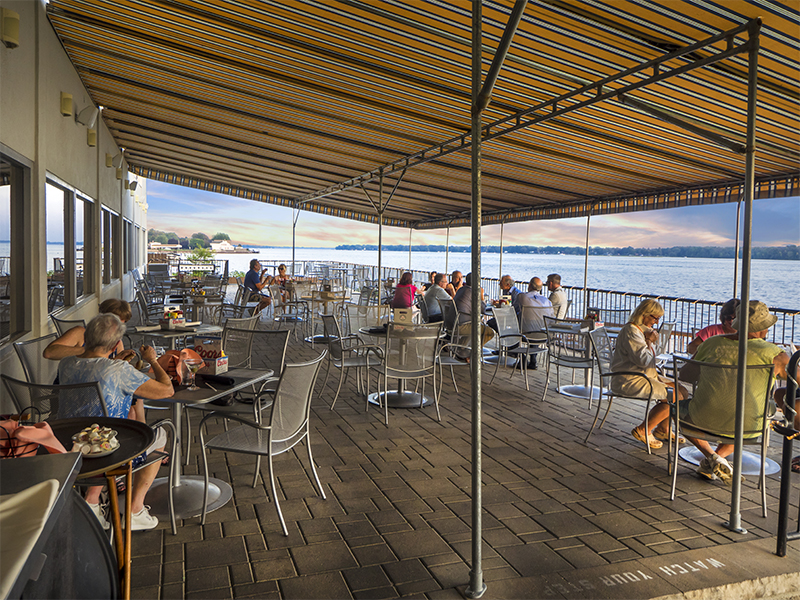 From delicious pasta dishes to homemade meatballs, Bella Vista is the perfect spot for a quick lunch or a romantic dinner with your significant other! Tucked in a hotel by the ocean, Bella Vista Ristorante is known for its authentic Italian cuisine, and for good reason. With passionate chefs and welcoming servers, alongside a menu of food bursting with flavours and an unbeatable view, there is nothing more you can ask for in a restaurant. Order their Short Rib Pizza that's packed to the brim with flavour! If you're looking for something unique, get their house specialty Bella Burger, a patty grilled to perfection, laid on a layer of White Cheddar Cheese, Sliced Tomato and Baby Arugula.
9. Leon's Italian Bistro & Pizza
Despite its unassuming exterior, Leon's is one of the top Italian restaurants in Niagara Falls. They serve a variety of classic Italian pasta dishes, Sandwiches and Salads. But Leon's is known most fondly for its Thin-crust Pizzas and Submarine Sandwiches! They also serve unique Wild Mushroom Ravioli and Tortellini with Shrimp, in generous portions! Make sure to come here hungry after a long day of visiting the Falls!
10. Michael's Italian Restaurant
Despite its seemingly unimpressive exterior, Michael's Italian Restaurant has become a household name among many of the locals and tourists around! With an attentive staff and beautifully portioned and affordable food, Michael's offers its patrons Italian classics with love and joy. Its most popular items include Meatballs in Sauce, Fried Calzones, Beans and Greens Soup, and Fettuccine Alfredo! With an impressive menu and legions of satisfied patrons, Michael's will leave you satisfied, full, and happy.
Among the chippy atmosphere and clean fresh air of the Falls, hidden gems of the greatest Italian restaurants are spread all over the city! From cosy atmospheres to delicious food, these restaurants provide the best of the best. So next time you find yourself hungry for some Italian, treat yourself as you go through this list of 9 Italian Restaurants in Niagara Falls New York!