Smooth, delicious, and joyous – chocolates occupy a special place in the hearts of many – from children to adults. Why not partner the sweet and bitter taste of the melt-in-your-mouth treat with an all-day, extravagant tour in one of Australia's top wine regions? Whether you're looking for a trip to the vineyards, a horseback ride, or an exciting flight in a hot air balloon, Hunter Valley is a must-visit for wanderlusters everywhere! With world class activities, hotels, and chocolates, what are you waiting for? Here are the 9 Best Chocolates in Hunter Valley That Includes Tasting Tours!
1. Cocoa Nib Artisan Chocolate
From bon-bons, to artisanal bars, to chocolate eggs, Cocoa Nib Artisan Chocolate offers the delicious treat of chocolate in all shapes, sizes, and flavors! With a passion for hand-crafting delicious and beautiful chocolates, Cocoa Nib are hand-made from the start to finish. Using high quality French Couverture chocolates, every piece of chocolate is not only amazingly rich, but also has hints of luxury and decadence. The owner, Aymee, who has been crafting sweets and pastries for years, is a local at Australia's Hunter Valley and knows her way around the hearts of all chocolate lovers. With traditional and modern flavours aplenty, Cocoa Nib will never disappoint your taste buds!
2. Hunter Valley Chocolate Company
With more than twenty years of experience, the Hunter Valley Chocolate Company has become a leading attraction in the world-renowned wine region. To craft their amazing chocolates, they use the finest Belgian Courverture chocolate, mixed with various Australian dried nuts and fruits. From chocolate desserts like cakes and fudges to unique chocolate flavours infused with Chili, they are an all-in-one specialist for all things chocolate. They also have a cafe for those adventuring around the Valley, offering scones, snacks, and hot chocolate – in a cup and flowing in a chocolate fondue!
3. Sabor Dessert Bar
In Spanish, "Sarbor" means "flavour" or "taste", and at Sabor Dessert Bar, you are guaranteed just that! Set on the Lambloch Estate, Sabor Dessert Bar shares the same building as the Lamboch cellar door, offering the best wines in Hunter Valley with delicious dessert. Relax in the comfortable atmosphere at the dessert bar, or take away and step out to the breathtaking views of the Brokenback Mountain Range and the vineyard below. Sabor offers an expansive menu, from multi-award winning Sabor Portuguese Chocolate Mousse, to Chocolate Cakes and Macarons. There are also gluten-free desserts and a wide range of teas to choose from.  They also have a house specialty – Glinelli coffee – for your perfect caffeine fix!
4. Pokolbin Chocolate Company
Situated in the heart of Pokolbin Village and only a stone's throw away from the beautiful Hunter Valley Gardens, Pokolbin Chocolate Company offers handmade and locally made chocolates to tourists and locals alike! With a large assortment of artisanal products, from Tea Leaves, Jams, Sauces to Chocolate and Handmade Fudge, Pokolbin Chocolate Company has something for everyone! The store is a 100% Australian owned small family business and have operated for more than 20 years – so you know they know their stuff. With warm and friendly customer service to delicious and unique products, what more can you ask for?
5. Hunter Valley Smelly Cheese Shop
Providing the finest Australian and imported gourmet, artisan cheese delights, cured meats, and other products, Hunter Valley Smelly Cheese Shop is a one-stop shop for all your local produce purchases. Other than delicious charcuterie meats and cheeses, the Smelly Cheese Shop also boasts a huge range of imported chocolates, and even the ones that were made in-house! From Dark Chocolate Bullets to White Chocolate Raspberries to Chocolate Speckles. These cheese shop also contains the Hunter Valley Gelato Company, with 32 flavours of Gelato and Sorbets to choose from for your cold sweet tooth!
6. Two Fat Blokes
With a fond love and passion for the Hunter Valley region, Two Fat Blokes was created to share that love and passion with as many people as possible! From local produce and wines to the unbelievable landscapes of Hunter Valley, the company has brought legions of guests and have converted them to Hunter Valley lovers. Other than Vineyard Walks, Local Guide Experiences, and Brewery Tours, Two Fat Blokes also offer Chocolate & Wine Matching in their tours. This allows guests to leave Hunter Valley not just in love with the region, but with newly found life-long knowledge on the pairings of chocolate and wines to bring home!
7. Glandore Wines
Located at the base of the beautiful Brokenback Range, Hunter Valley, Glandore Wines has distinguished themselves for their remarkable and intense wines. Through a partnership with Adora, a Sydney chocolate company, Glandore is offering a Chocolate and Wine Pairing Experience. This is an unforgettable experience with refined wine and exceptional and unique handmade chocolates! Take your senses on an once-in-a-lifetime journey, of the beautiful smell of wines, sweet taste of chocolates, and gorgeous landscape of Hunter Valley's mountain range.
8. Tulloch Wine Tasting and Chocolate Pairings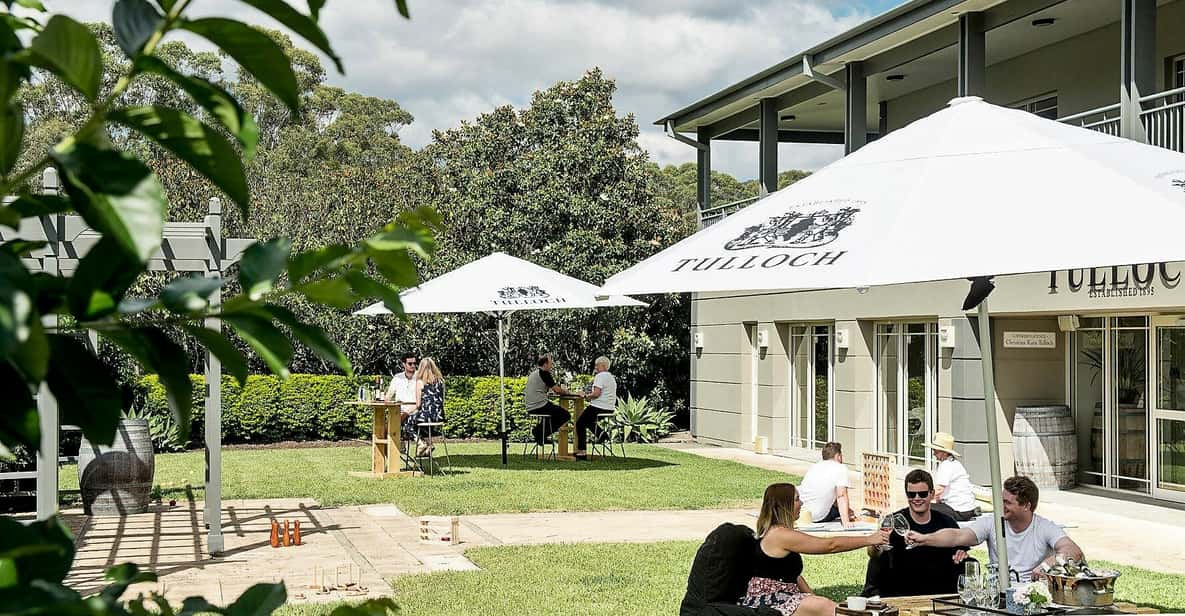 With over four generations of experience, Tulloch Wines has been part of Hunter Valley's wine scene for over a century. As an expert in the many different wines that they produce, Tulloch has also been serving customers not just through a expansive collection, but also through wine tastings. As they share their knowledge about the history of wine and Hunter Valley, indulge in wine tastings paired with amazing chocolates from locally produced chocolates. With a private Wine Ambassador for you and your group, you'll now finally know which chocolates would be best paired with which wine!
9. Greenway Wines
The boutique vineyard that is Greenway Wines sits in an intimate little red barn on the banks of the Wollombi Brook. Over the years, Greenway Vines has grown delicious fruits nurtured using sustainable farming practices, making Merlot, Shiraz, Traminer, Fiano and Rosé wines! Partnered with Wonderland Kitchen, which makes luxurious and delicious edible experiences, Greenway also offer a unique Wine, Cheese, and Chocolate Tasting for discerning guests. With an entire spectrum of products and tours to go on, what are you waiting for? Make your booking now!
Among the beautiful mountains and sprawling vineyards of the Hunter Valley region awaits an unforgettable experience for you and your loved ones. Get introduced to the amazing pairings of chocolates and locally produced wines and cheeses, as you go on a learning journey to the Valley's greatest winemakers. If you're an explorer, a connoisseur, or just want a break from the hustle and bustle of city life, take a trip to Hunter Valley and visit these 9 Best Chocolates in Hunter Valley That Includes Tasting Tours!