Vietnam is more than just temples, coffees, lantern festivals, and its French-colonial architecture. This country has thousands of traditions that many generations worked hard to preserve. Lucky for us, Halong Bay bears hundreds of these beautiful traditions, and is recognized as one of the top destinations for a relaxing cruise holiday! From mountains to sandy beaches, let's explore these 8 Things to Do in Halong Bay, Vietnam!
1) Leisurely cruising
The first thing you have to do in Halong Bay is to enjoy what it offers best, and that's sailing in a traditional or modern yacht to achieve an extraordinary seascape you can never find anywhere else. You can choose from Mon Cheri – a world-class cruise and Halong Bay's most luxurious ship operating in Lan Ha Bay, or Peony Cruise – another top-of-the-line luxury cruise that offers the finest onboard sailing experience! So prepare your panoramic camera, as you are about to enjoy the world's most isolated lagoons and grottos on a 360-degree yacht balcony!
2) Visit Cat Ba Island
If you want to take a break from the cruise ships or the water, visit Cat Ba Island. Aside from being Halong Bay's largest island, it's home to the most luxurious and comfortable hotels around. Cat Ba Island is also popular for its caves, hiking and rock climbing which gives you closeness to Halong Bay you can never shake off! A part of the Cat Ba Archipelago, the island is also known for its delicious and fresh seafood straight out of the ocean! With its rich biodiversity, consider walking to catch the most amazing animals of the Bay!
3) Snorkeling in Cong Do Island
No one can resist going into clear waters sprinkled with various coral reefs and colorful fishes. Cong Do Island can give you the scuba diving experience of your dreams due to its isolated location! It is also undeniable that the waters of Halong Bay strongly separate themselves from the typical seascape you can see. The uniqueness and diversity of the ecosystem here are filled with a number of sea horses and turtles, as well as stone crabs and lizards that can be easily seen because clarity of the air and water here. Make sure to get the most out of snorkeling in Cong Do Island before you step back on land!
4) Experience the thrilling place of Sun World Halong Park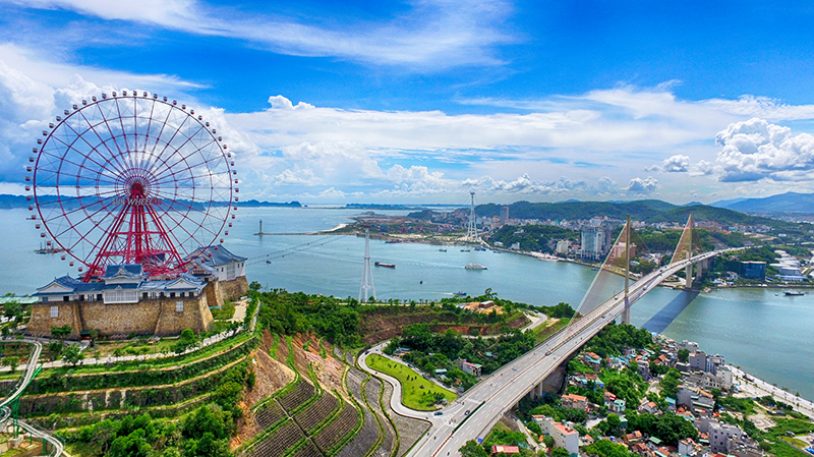 Beaches, hiking, sailing, and the largest amusement park in Vietnam can be seen here in Halong Bay. Because of its size, the park is cut into two sections and connected with Queen Cable Car – which lets you ride up and see the island with the best view you can get of the Bay. There are also rides of varying adrenaline: from thrilling roller coasters to a giant Ferris Wheel or Tea Cups. There is also a wax museum, indoor game zones, giant slides, and a Zen Garden. Talk about the food, Sun World Halong Park offers different varieties of food, from local to Japanese cuisines! This park is the perfect choice for non-stop fun!
5) Sunbathing in Ti Top Beach
This destination is for those tanned-skin enthusiasts. Ti Top Beach is an extraordinary crescent moon-shaped beach that can be reached easily by boats! Once you're done absorbing enough of the sun's rays and you want to take a break, a mini café and beach chairs are waiting for you. Rock climbing, snorkeling, and pools are also available here, so make sure to make some extra time!
6) Caves Sightseeing
Given that the island is home to a large number of mountains and cliffs, it's no surprise that it also offers hundreds of magnificent caves. Thien Cung cave is just one of the many rare and bizarre caves you can find in Halong Bay. This natural void in the ground is two million years old and deals with remarkable chambers. It is also covered in stone pillars and stalagmites so watch your head as waters might be dripping! To illuminate the area, artificial lights are used – transforming the Thien Cung caves into rooms with the most intimidating and extraordinary structures you can see.
7) Come across the Vung Vieng Floating Village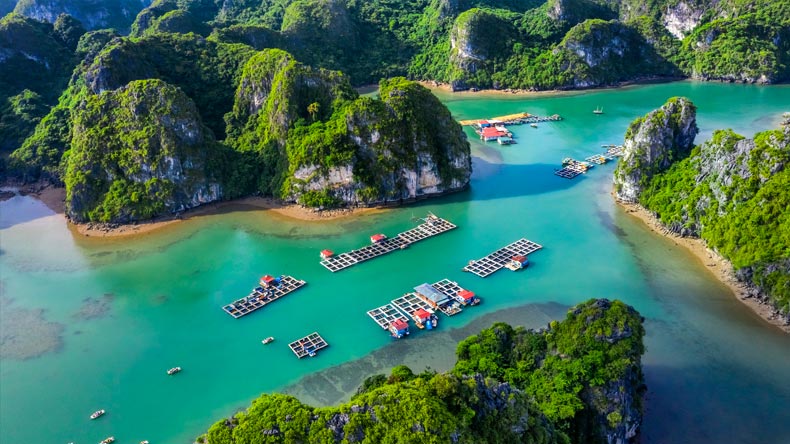 Vung Vieng Floating Village serves as a preserved cultural heritage location in Halong Bay. This is why they offer tourists education and allow them to attend workshops on handicrafts and food making. Spending a night in one of these homes can give you one of the most authentic experience you can have in Vietnam! You might even get to row the boats yourself or even do some fishing. However, don't overstep your boundaries – this village is still home to 300 residents!
8) Visit Tuan Chau Island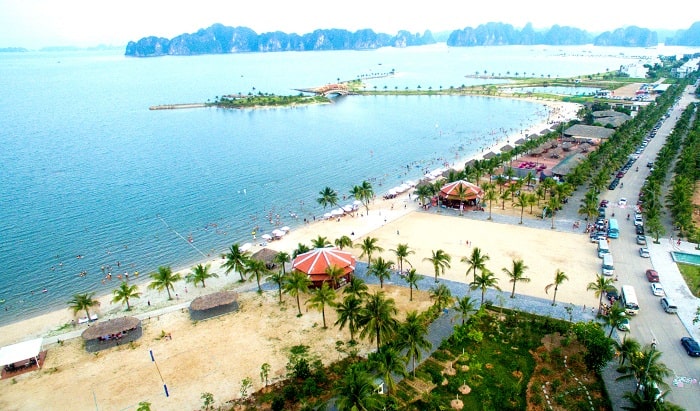 If you are tired of riding boats from island to island, Tuan Chau Island is the perfect end point for you! This island is the most developed tourist destination in the area and is the place where most vacations culminate. Aside from golf courses, Tuan Chau Island offers beach villas, restaurants, a beautiful marina, and even dance performances by the locals! Well known for their warmth and friendliness, the hospitable and affectionate locals here treat you like family! Of course, don't forget to grab some souvenirs on your way home!
The beauty of Halong Bay is incomparable. With its deep local culture, warm people, and experiences focused on an authentic experience, Halong Bay is the perfect destination for tourists looking for total immersion and a full experience in a culture other their own. So pack your bag, book your trip, and have fun!