Boutique hotels in Singapore are extremely popular among locals for staycations due to the unique propositions they have. From rooms with different themes to those in historical buildings, each hotel varies extensively from one another. Without further ado, let's check out the some of the best boutique hotels in Singapore for a unique staycation!
1. KeSA House
Located at the heart of Keong Saik Road, KeSA House offers some of the city's most unique and diversified bars and restaurants. There are a total of 60 charming rooms perfect for quick getaways. At 13sqm, their standard room retreats to the calm of communal spaces. While the spacious premiere rooms come with a kitchenette, extra living space, private patio and can be personalized.
This boutique hotel in Singapore offers easy access to the city's popular tourist destinations like Sri Layan Sithi Vinayagar Temple, Marina Bay Sands, Singapore Flyer and many more. From their glowing reviews, KeSA is very well-liked for their innovative combination of modernity and traditions.
2. Heritage Collection on Chinatown
The beautiful mural walls are part of the reason why this is one of the most unique boutique hotels in Singapore! Located in Chinatown, Heritage Collection's premium loft has a unique layout for added privacy, featuring high ceilings and large windows that allows for lots of natural light. This is ideal for couples and business travelers looking for an extended stay, as you'll never feel cooped up. Each premium loft has a laundry facility, full-equipped kitchenette, queen-sized bed, and CCTV protection.
If you are looking for a comfortable and convenient place to stay in Singapore, Heritage Collection will be one of your top choices. Their modern and luxurious loft not only offer a place to rest, but it is also the gateway to Singapore's cultural neighbourhoods.
3. The Vagabond Club
This Tribute Portfolio hotel is conceptualized by the award-winning French designer Jacques Garcia. It has 41 elegant rooms and exquisite services and amenities such as a complimentary art tour, a modern Chinese restaurant and one of the world's best whiskey bars. In which, the latter has over 1000 bottles of high quality whiskies that offer a truly luxurious experience.
The onsite Yellow Pot deserves a special mention – the iconic Chinese restaurant offers classic and innovative Chinese cuisines that are sustainably sourced and prepared. After dinner, retreat to The Executive Club Lounge and order a drink from a selection of bespoke gins and whiskeys. Whether you're looking to impress or unwind, you'll find no better place to be.
4. Hotel NuVe Heritage
Hotel NuVe is decked out in sophisticated natural shades with white furnishings and marbled bathrooms. Housed in pre-war conservation shophouses, the hotel boasts a total of 43 rooms offering a comfortable stay. Centrally located in Bugis, enjoy easy access to Singapore's best shopping districts and cultural neighbourhoods! Not like you'll run out of things to do, but there are also games available for rent such as Nintendo Classic, Monopoly, Jenga and a galaxy laser projector. With six different room types available to meet all needs, you're bound to have a great time here!
5. The Great Madras
Known as one of the coolest boutique hotels in Singapore thanks to its design, The Great Madras induces the wonders of traveling with its intricate prints and leaves. Their spacious rooms has windows to welcome natural light, and features wall prints of hand-painted forest lines. We really love the balcony room where guests can have a balcony in their room overlooking the main street!
Aside from their stylish rooms, they also offer a barber right in their lobby in case you want to look sharp with your haircut. A bistro serving Halal-Indian food will satisfy your cravings with their cuisines. And don't forget to take advantage of their Instagram-worthy pool!
6. Naumi Hotel
This hotel is an unexpected oasis in the city centre. With living spaces that are warm, genuine, and deluxe, it is where modern minimalism meets a contemporary twist. Naumi Hotel is also famous for its Cloud 9 infinity pool and this is where guests can enjoy the beautiful skyline of Singapore while lounging about. A 24-hour fitness room is also available with treadmills, cycles, bench presses, and more. Come and experience more of Naumi's signature hospitality with its event spaces, dining, and rooftop bars!
7. Ann Siang House
Nestled in Chinatown and within minutes of the Central Business District, Ann Siang House is a restored heritage building which fuses flexible co-living accommodation with dynamic culinary offerings. Each of the property's 19 well-appointed apartments is fully furnished with the comforts of home and enable an all-inclusive lifestyle concept which combines work and play.
Every room also comes with the famous the Hypnos "Firenze" bed, said to be the most comfortable bed in the world! The handmade furniture and spacious room will truly set the tone for your stay. The property also offer apartments with a fully-furnished kitchenette, boasting quality cooking equipment from Le Creuset, Jamie Oliver, and Crate & Barrel!
8. Hotel G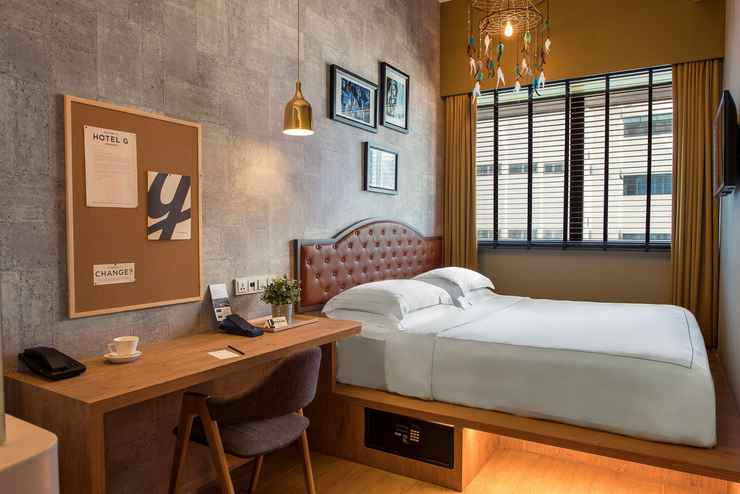 This boutique hotel is a quintessential lifestyle hotel and its design reflects Singapore's cosmopolitan rhythms. We hope you come ready to feast, because this is where the highly acclaimed French restaurant and wine bar, Ginett calls home.
Aside from brunching and dining like a Parisian, enjoy a sophisticated all-American burger and liquor bar at 25 Degrees. After a great meal, retreat and recharge in their custom-designed rooms. Enjoy vintage decorations and bathrooms with high-end amenities like rain showers!