Did you know that the people in Seattle, Washington consume the most coffee than any other U.S. city? From the city that brought you Starbucks, Seattle is known as the world center for coffee roasting and coffee supply chain management! This means that it won't be difficult to find good coffee in Emerald City. After decades of innovation in coffee-making, a risqué trend began to pop up – a coffee spot exclusively served by Bikini Baristas. These coffee spots sell exceptional coffee most commonly served by baristas dressed in nothing but a bikini! If you're based in Seattle or just visiting and are looking at these Bikini Coffee Spots – you are in luck! Here are the 5 Best Bikini Coffee Spots in Seattle with The Hottest Bikini Baristas!
1. Ladybug Espresso
If you're looking for an exciting way to kick-start your morning, you're in luck. LadyBug Bikini Espresso has been touted as one of the most popular Bikini Espresso Drive-Thrus in Seattle. From their popular LadyBug Iced Latte to their seasonal Winter White Chocolate Mocha, these baristas are sure to perk your day up! Their baristas are also known for their friendly conversations and amazing coffee-making skills!
2. Cowgirls Espresso
Established in 2002, Cowgirls Espresso is one of the pioneers of the Bikini Barista concept! With over 15 locations in the Seattle/Tacoma area, Cowgirls Espresso is known for its delicious Espresso beverages, including Mochas, Lattes, and their signature 32-ounce Buckin' Bronco. The Buckin' Bronco contains four espresso shots and 32 ounces of your choice of cold beverage, which is guaranteed to spring you into the rest of your day. They also serve delicious treats and pastries which are freshly made by local bakeries in the Seattle area!
3. Chicka Latte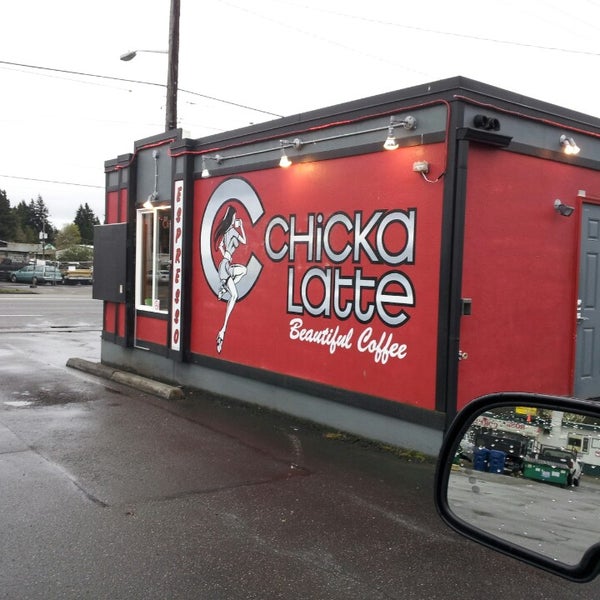 Chicka Latte has been in the coffee spot game for years now, with charming baristas crafting excellent coffee for guests. What used to be a popular chain among both locals and tourists, Chicka Latte is down to only one store at Aurora Avenue N. However, despite being the only store left, Chicka Latte has continued to attract both regulars and newcomers alike for their amazingly prepared Expressos, Mochas, and Iced Coffees. With sweet smiles and friendly conversations, let the graceful baristas work their magic and send you off with a smile on your face!
4. Pink Hotties Espresso
Located just down the road from Martha Lake Park, Pink Hotties Espresso is run by charming baristas who have impressed loyal customers again and again! With in-depth conversations and quality drinks, Pink Hotties Espresso offer their customers a caring and personal caffeinated experience. If you're looking for a coffee before heading for work, head on down for a fun and classy way to get your coffee!
5. Double Divas Espresso
Double Divas Espresso is one of the best places in Seattle to get your caffeine fix. Their classic menu includes Espressos, Blended Mocha, and White Coffee. They also boast a unique menu of items like the Pumpkin Spice Latte and Energy Drink blends. Alongside an expansive menu of drinks, they also offer snacks and pastries prepared with love from the charismatic and gorgeous baristas.
Seattle is not only a hub for coffee lovers, but it is also a great destination for those looking for a good time! These coffee shops come in all different shapes, sizes, and flavours. It can be a little overwhelming at first, but once you try these beverages prepared by these amazing baristas, you won't regret visiting them!