Filipino food is a lot more than just rice and noodles. It has many complex flavors and textures from all over Asia and the Pacific Islands, making it one of the most diverse cuisines in the world. There are also influences from Spain, China, and America. No wonder why Filipino cuisine is one of the most exciting and interesting cuisines in the world! From stir-fry noodles to different dishes of meat, let's explore the food culture in the Philippines through these dishes you should try.
1) Adobo
This Filipino dish is traditionally made by cooking meat in vinegar, soy sauce, garlic, bay leaves, and black peppercorns. It is a dish that has been adopted by other cultures and can be found in many different variations! Adobo is traditionally cooked in a pot or cauldron over low heat for several hours. So you'll have to put in some patience while waiting for it to cook, but it's well worth the wait! Don't forget to pair it with some white rice – that's the perfect way to enjoy it.
2) Sinigang
Sinigang is a dish native to the Philippines. And some people may know, it is a sour soup made with tamarind or other sour-tasting fruit, water, and meat. The dish can also be made with vegetables like eggplant and string beans. Prepare your taste buds for this tangy soup that's perfect for any type of weather! In the Philippines, Sinigang is perfect for different climates when it's partnered with some fish sauce and red chili pepper.
3) Lumpiang Shanghai
Lumpiang Shanghai is a type of spring roll popular in the Philippines. It is made with a thin wrapper of crepe-like dough, which is then filled with minced pork and vegetables then deep-fried till crispy. This dish is perfect for any occasion be it as a side, snack or appetiser! This also one of the most popular snacks in the Philippines because it's cheap to make and easy to find.
4) Pancit
Pancit originated from Chinese cuisine and was introduced to the country by Chinese traders during the 15th century. Often topped with shrimp, boiled eggs, and hard-boiled eggs, Pancit consists of thin noodles, vegetables, and meat. It can be served in many ways and just like Lumpia, it can work as an appetiser as well. This dish is unquestionably one of the most popular dish in Filipino cuisine!
5) Sisig
Sisig is a type of dish that has different variations depending on the region where it is being served. Generally, it is grilled or fried pork seasoned with vinegar, soy sauce, and garlic and served with rice, chopped onions, chili peppers and calamansi juice. The name of this dish comes from the word "sizzling" which reflects its cooking process. Try some Sisig and prepare to be sizzled!
6) Lechon
Lechon is a Filipino dish often served on special occasions. It is a whole roasted pork and the most common way to serve it is by cutting it into pieces and eating it with rice. It can also be eaten as finger food anytime of day! Pork is not the only Lechon that you can wholly roast in the Philippines – it can be chicken or ducks too!
7) Kare-kare
This is a Filipino dish made from vegetables and meat boiled in a peanut sauce. The vegetables usually consist of okra, eggplant, and string beans while the meat is usually beef or ox tail. All these ingredients are boiled together until all tenderized and reduced to a thick soup, or as the Filipinos call "sarsa". Kare-kare is best paired with bagoong as the latter adds a salty taste to it. Once again, don't forget the white rice!
8) Bulalo
Bulalo is now considered as one of the most famous dishes of Filipino cuisine and it has been exported to other countries such as Malaysia and Singapore. Bulalo is made from beef shanks or cow feet boiled in water with vegetables and spices. Fun fact – this dish was once only reserved for the rich! But now, you can enjoy it in any Filipino restaurant or in a local "carinderia" – a store that sells local Filipino fare for a very affordable price.
9) Chicken Inasal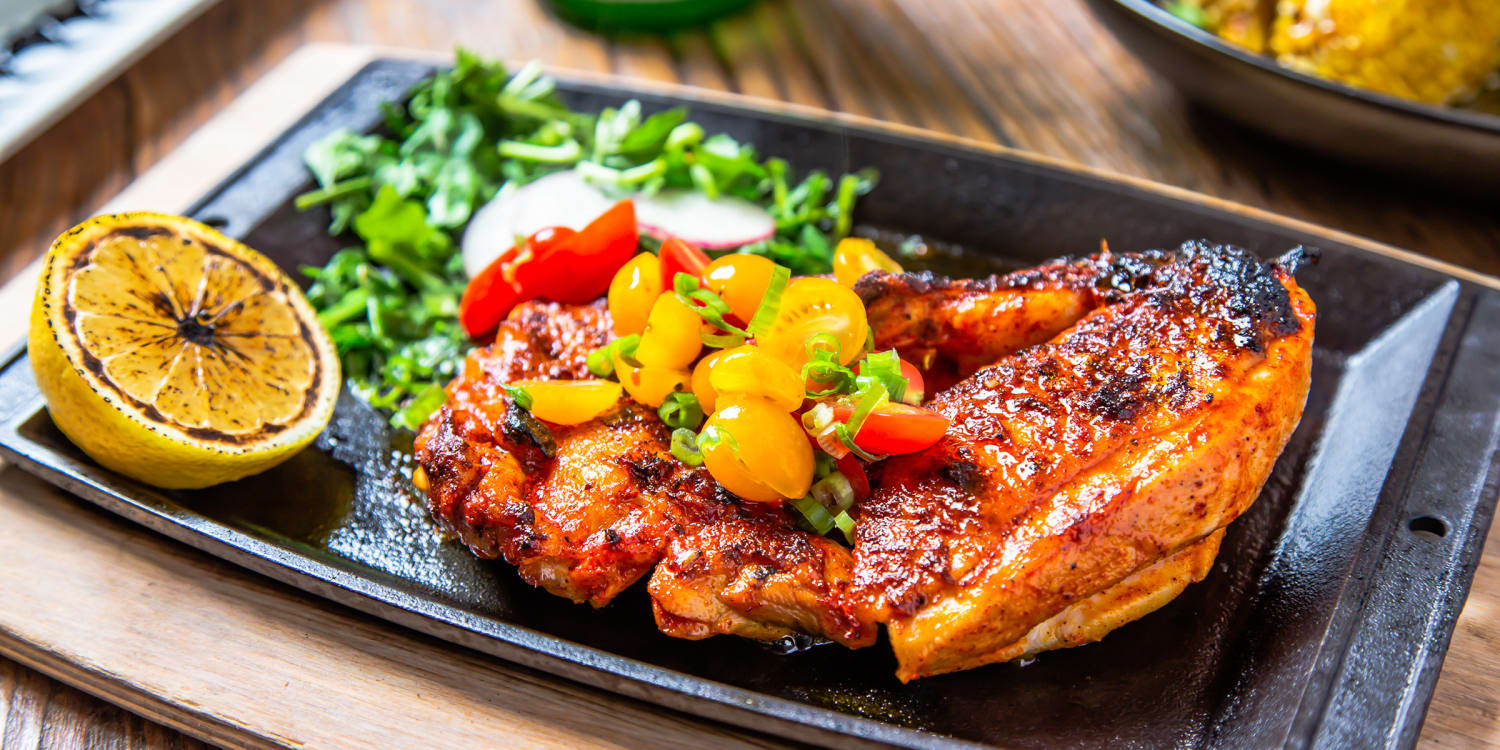 In order to make an inasal, chicken is marinated in lemon and vinegar then grilled over charcoal or wood fire. It comes with a side of atchara – a pickled vegetable salad made from unripe papaya, carrots, and cucumbers. It is also typically served with a side of rice and a dipping sauce called "sarsa". The savoury and sweet notes in this dish will surely win you over!
10) Halo-halo
Halo-halo is a famous Filipino dessert that is a mix of shaved ice, evaporated milk, and various toppings such as red beans, mung beans, sweetened coconut meat (gulaman), palm fruit (siraita), and ice cream. The word "Halo-Halo" literally means "mix-mix". And if you are to visit the Philippines, don't forget to try this popular summertime dessert! It may be sugary, but its appetizing look and icy texture will surely lure you to try it!
11) Leche Flan
If you want to talk about more desserts, Leche flan is a popular Filipino dessert typically served at parties, special occasions, and other celebrations. This dessert is made of milk, sugar, eggs, and vanilla extract. It is typically baked in a mold or pan and set in a water bath to ensure even cooking. The dish has a custard-like consistency and can be served warm or cold depending on your preference!
There are a lot of delicious Filipino dishes that will make you forget about your diet. You can try to resist the temptation, or you can just give in and have a cheat day!